Primavera-P6 Trainnig in Lahore R8.3 Practical Training ( 0301-8359071 ) - Lahore
Friday, 21 October 2022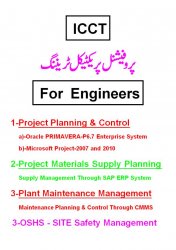 Contacts
Samar Abbas
03018359071
Item description
MS Project 2007/10
Oracle Primavera P6 Latest R8.3 Enterprise System
Basic and Advanaced Level Training
Corporate & Individual classes) Sunday Open.
01-Project management Tools :
a)-Bar Chart
b)-PERT
c)-CPM
02-Project Planning
03-Project Scheduling
04-Project Cost Estimation-Resource Management
05-WBS Operation ( Presentation Development )
06-Project Approval ( Schedule & Budget )
07-Project Execution Process
08-Collection and Recording of Project Progress
09-Monitoring and Controlling of Deviations
10-Special Project Reports ( Printable )
Schedule Tabular Reports
Resource Tabular Reports
Project Cost Tabular Reports
Graphical Reports
more
Final Check List as per Employer's Demand
01-Bar Charts .
02-Use of Logic Diagram .
03-S-Curve ( Resource Curve ) Development .
04-Milestones Activities- Start Milestone and Finish Milestone .
05-Critical and Non Critical Activities, Critical and Non Critical Path .
06-Critical Path Development- Practical Application of CPM Technology .
07-Resource, and Equipment Loading .
08-Resource Leveling .
09-Productivity / Progress Curves Development .
10-Schedule Forecasting / Look-Ahead Schedule .
11-Global Changes of Duration, Quantity and Cost .
12-Baseline Plan ( Target Project ) Development.
13-WBS ( Work Breakdown Structure ) Development and Application.
14-Monitoring Project Performance through Earned Value Method.
15-Histograms and Productivity Report.
16-Reports Analysis.
17-Recording of Project Progress and Monitoring Actual Time and Cost Applied.
18-Application of Cost Control Techniques for un-favourable Variance Control.
Completion of Syllabus is Guaranteed.

Contact No.:
SAMAR ABBAS

0301-8359071
0324-6664500
0333-6706976

Skype I'D : Samar50546


Address:
Lahore, Islamabad , Multan, Gujarat , Faisalabad and Other Cities and other Countries Individual bases and Groups.