Ostrich chicks and eggs for sale at cheap prices(www.birdsbreed.webs.com - Lahore
Saturday, 23 November 2013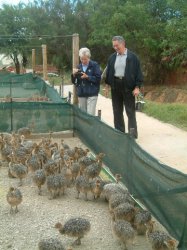 Contacts

mohammed ali
Item description
Island Ostrich Group Int Ltd has 30 years of experience in Ostrich farming and products .We sell in bulk ostrich eggs , ostrich chicks, ostrich meat, ostrich feathers and shell for
decoration.We carry out delivery to Pakistan, India, Saudi Arabia, Dubai, Iran the whole of middle East, USA, Erope Asia and Australia.For bulk purchase contact CEO Mr Mohammed Ali on our website www.birdsbreed.webs.com Please provide the following information below...
Your names and Country...?
Mobile number...?
Email address...?
Your Order or enquiry...?
Our email is birdsbreedwebs@gmail.com
Then please you must go to our website to see our products and place order directly www.birdsbreed.webs.com Place order now.Thanks.