Baby diaper - Lahore
Tuesday, 17 April 2012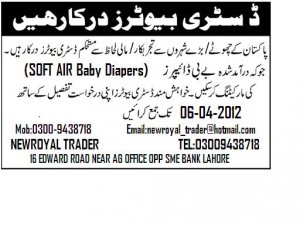 Contacts

rana salahuddin
03009438718
Item description
- Excellent quality
- Very good absorption and leak guard
- Soft PE Back sheet with Wet indicator Soft Air baby is a very good quality baby diaper that comes with very attractive prices both for our distributors as well as consumers. Following are the main quality features of Soft air baby:
- Very good absorption with SAP S, M, L: 5, 6, 7 grams
- Strong leak prevention
- Full ADL layer to keep the baby bottoms dry .And for quick absorption and to prevent any dampness came out of diaper.
- Soft PE back sheet printed With Wet indicator
- Adhesive tape
- Colorful and attractive design and packing
- Bag with handle for easy carrying
Its Smart pack is mainly targeted to low-mid end consumers having 62 Small / 56 Medium / 50 large diapers in a bag.